Christmas adventure
Christmas at Clifton Park!
Step into a world of wonder and excitement with our unique and extraordinary holiday experience. Get ready for an adventure like no other, filled with enchanting activities and delightful surprises.
Tickets include your 90 minute Christmas Adventure as well as unlimited Fun Park rides and Mini Golf until 5pm!
What you get!
Your amazing 90 minute Christmas Experience includes:
Fun and games in the Elf Tipi
A gingerbread man to decorate (and eat!)
A trip on the Santa Express
Meeting Santa in his Workshop
A quality plush toy from Santa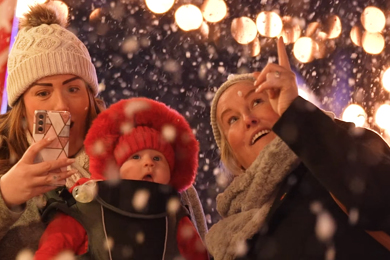 Your tickets also include a full day of fun at the Fun Park and Golden Putter, including:
Unlimited Fun Park rides
Unlimited rounds of Mini Golf
Giant Snow Globe experience
Entertainment (and treats!) from the Elves!
Christmas at Clifton Park
Your Enchanted Christmas Journey
Your 90 minute Christmas experience starts off in the Elf Tipi, where you'll meet your personal Tour Guide and discover everything you need to know about Christmas Elves!
Next, it's on to the Christmas Bakery, where you can decorate your very own gingerbread man* for you to take home.
Then you'll head to the classroom to experience a typical day at school for one of Santa's little helpers before boarding the Santa Express for an unforgettable ride through the enchanted forest to Santa's Workshop to meet the man himself!
*For allergy purposes please be aware that the ingredients may contain soy beans, milk, cereals containing gluten, eggs, peanuts and tree nuts.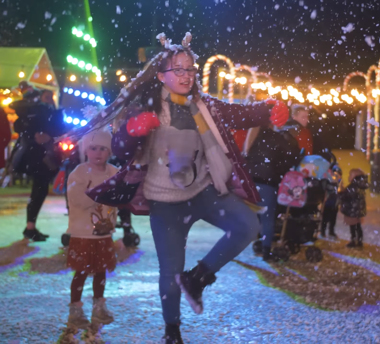 Fun park and snow globe
Unlimited rides and Snow Globe fun!
Once the Santa Express has returned to the Fun Park - there's still more fun to be had! You can get unlimited rides at the Fun Park, including our Giant Snow Globe experience, and unlimited Mini Golf all day!
Watch out for the intermittent (artificial!) snowstorms, and those cheeky elves riding around in their vintage cars - you never know, they may have a candy cane treat or two!
Access to the Fun Park and Mini Golf is available all day until the Fun Park closes at 5pm.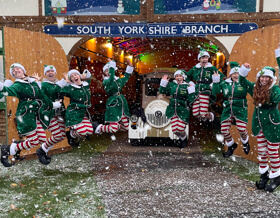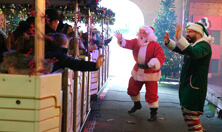 Ticket prices
Children under 2 years old

£9.00

Children over 2 years old

£20.00 - £27.00

Adults* (Does not include a gift)

£15.00 - £22.00
*Please note the adult ticket does not include a gift and adults will not be able to take part in some activities included on the child tickets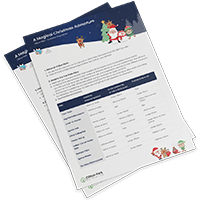 Download your itinerary to make sure you're prepared!
Make sure you don't miss your adventure! Your tickets are for a specific adventure time, so make sure you check in at the Fun Park rides 30 minutes before your pre-booked time.
Download Itinerary
Book your tickets now!
Prices vary by date, check out a full list of dates and prices here